Dunlop D404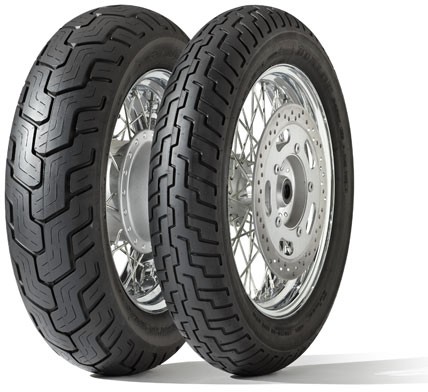 Dunlop has taken the legendary Harley Davidson tread pattern and used it to bring you the ultimate cruising tyre. When you want to hit the road, the D404 is the perfect choice, offering miles of smiles in total comfort. Designed to cope with the heaviest loads, the clever tread pattern ensures the rolling noise is kept to a minimum whilst delivering an outstanding balance of mileage, grip and straight-line stability whether it be wet or dry. With an option for black or whitewalls in some sizes there's no excuse for not cruising in style.
All-around good performing tire available in many sizes to fit a wide variety of standard, cruiser and older bikes.
Tread compound delivers excellent balance of mileage and grip.
Front and rear tread patterns designed for outstanding water evacuation and wet grip.
Bias-ply construction designed to deliver a smooth ride for maximum comfort.
Offset center groove offers excellent straight-line stability.
Dunlop tire performance in a great value package.

Dunlop D404 Front
| CAI | Модель | Размер | Индексы | TT\TL |
| --- | --- | --- | --- | --- |
| 650800 | D404 | 110/90 - 16 | 59P | TT |
| 650723 | D404 | 130/90 - 16 | 67H | TT |
| 650726 | D404 | 130/90 - 16 | 67H | TT |
| 621423 | D404 | 130/90 - 16 | 67H | TT |
| 650725 | D404 | 130/90 - 16 | 67H | TL |
| 650754 | D404 | 150/80 - 16 | 71H | TL |
| 650753 | D404 | 150/80 - 16 | 71H | TL |
| 652860 | D404 G | 150/80 - 16 | 71H | TL |
| 651004 | D404 | 120/90 - 17 | 64S | TT |
| 664429 | D404 G | 120/90 - 17 | 64S | TT |
| 662654 | D404 | 140/80 - 17 | 69H | TT |
| 650738 | D404 | 140/80 - 17 | 69H | TT |
| 650818 | D404 | 90/90 - 17 | 49P | TT |
| 653225 | D404 | 3.00 - 18 | 47P | TT |
| 650672 | D404 | 100/90 - 19 | 57H | TL |
| 653338 | D404 | 3.00 S 19 | 49S | TT |
| 650782 | D404 | 80/90 - 21 | 48H | TT |
Dunlop D404 Rear
| CAI | Модель | Размер | Индексы | TT\TL |
| --- | --- | --- | --- | --- |
| 650804 | D404 | 130/90 - 15 | 66P | TT |
| 652957 | D404 G | 130/90 - 15 | 66P | TT |
| 653363 | D404 | 140/90 - 15 | 70H | TL |
| 651011 | D404 | 140/90 - 15 | 70S | TT |
| 657219 | D404 | 150/90 B 15 | 74H | TL |
| 650759 | D404 | 150/90 B 15 | 74H | TL |
| 650757 | D404 G | 150/90 - 15 | 74H | TL |
| 664430 | D404 | 160/80 - 15 | 74S | TT |
| 651014 | D404 | 170/80 - 15 | 77S | TT |
| 656278 | D404 G | 170/80 - 15 | 77S | TT |
| 620521 | D404 | 180/70 - 15 | 76H | TT |
| 650742 | D404 | 140/90 - 16 | 71H | TT |
| 650752 | D404 | 150/80 B 16 | 71H | TT |
| 650751 | D404 | 150/80 B 16 | 71H | TT |
| 652861 | D404 | 150/80 B 16 | 71H | TL |